Prenatal Infant Dentistry Palo Alto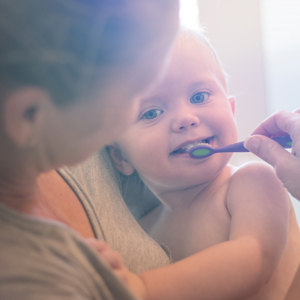 Infant Care
Baby's first dental visit is recommended as soon as the first tooth erupts or no later than their first birthday. The first visit is the first step in creating a dental home. Parents will learn what to expect during teething and dental development and your baby will be introduced to the dental office. Dr. Michelle will create an individualized cavity risk assessment and discuss how to keep your baby's teeth and gums healthy.
Infant oral health care is important because even babies can get cavities. One common issue is referred to as "baby bottle cavities" or early childhood caries. As soon as baby's first tooth erupts, cavities are possible. There are several ways to prevent your baby from developing cavities:
1. Clean baby's gums with a soft toothbrush or gentle cloth.
2. Begin brushing baby's teeth with a toothbrush as soon as the first tooth erupts.
3. Avoid putting child to sleep with a bottle containing anything other than water.
4. After breastfeeding or bottle feeding gently wipe gums with wet gauze
Tips for parents
Teething can be difficult for both baby and parents! To help baby be more comfortable, try:
Massaging their gums with a finger brush or wet gauze
Teething rings/toys (look for phthalate free)
Chilled wet washcloth, or chilled teething rings can soothe gums
Serve chilled breast milk or formula
Why Pediatric Dentists are Important:
Dr. Michelle specializes in pediatric dental care from birth through adolescence, and even before your baby is born. Baby's overall health can be affected by mom's dental hygiene during pregnancy. Good oral health care can improve the health of your baby. Gum disease is common during pregnancy and can be associated with premature birth or low birthweight. While pregnant, follow these guidelines to keep your baby healthy:
Brush and floss daily
Visit your dentist every 6 months
Call (650) 32-BYTES or email us to schedule your
toddler or child's dental checkup.
Little Bytes Pediatric Dentistry