Child Dentistry Palo Alto
It is important to maintain the health of baby teeth. Untreated cavities can lead to problems affecting the developing teeth. Baby teeth, or primary teeth, are important for: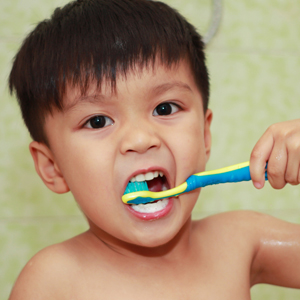 1. Chewing and proper nutrition
2. Saving space for adult teeth and helping to guide adult teeth into position
3. Normal development of the jaw bones and muscles
4. Proper speech development
The front teeth may fall out between 6-8 years of age, but the back teeth may not fall out until 10-12 years of age
Brushing your child's teeth
Oral hygiene plays a critical role in preventing cavities in children. Using the "rule of 2" children should brush 2 times per day, 2 teeth at a time for 2 minutes. Toothbrushes should have soft or extra soft bristles and be changed every 3 months or after any period of illness. Here are some brushing tips:
1. Children under the age of 2 years old should use a "rice-sized" amount of toothpaste
2. Children over the age of 2 years old can use a "pea-sized" amount of toothpaste
3. Children should be supervised and assisted with brushing until they are 8 years old.
4. Hold toothbrush at a 45 degree angle where the teeth and gums meet, use short circular brushing motion
5. Brush the inside and outside surfaces of each tooth and the chewing surface
6. Floss between teeth daily
Little Bytes Pediatric Dentistry provides a warm, nurturing environment where children are empowered to achieve a lifetime of healthy bytes.
Call (650) 32-BYTES or email us to schedule your
toddler or child's dental checkup.
Little Bytes Pediatric Dentistry